Citizens Police Academy
BE A PART OF THE SOLUTION
The academy gives our citizens first-hand information on how and why the Department operates, and examining the culture of police work and the organization. It provides an excellent opportunity for the citizens to interact with Department members. The program was first started under the direction of Detective Dennis "Tug" Hockers in 1998 and we now have a waiting list for this very popular program.
The Citizens Academy is NOT an offer of employment, but a volunteer organization and program to educate those respected members of our community who want to hear information on law enforcement and the MPD right from the source.
Upon graduation, participants can become members of the Citizens' Police Academy Alumni Association.
The students meet every Thursday evening from 6:30 p.m. to 9:30 p.m for 10 weeks. The program involves both classroom and interactive instruction. Participants are given the same information that our police officers taking in-service classes receive.
Participants will also have the opportunity to do a ride-a-long with an officer so you can see first-hand what a day in the life of our officers is like.
---
THREE GOALS OF THE PROGRAM ARE:
That the Graduates will learn about the management, operation and procedures of the Mayville Police Department.
That it will strengthen community support and involvement.
That employees of the city gain input, learn, be sensitive and respond to the needs of the citizen.
---
"The Police Department realizes it cannot solve crime without assistance from the citizens. Hopefully these people will get working knowledge of what we are doing, and they can pass that on to the other members of the community."
Detective Tug Hockers
---
Throughout the 30 hours of instruction and hands-on experience, the Mayville Police Department Officers will be involved with instructing on different topics.
TOPICS INCUDE:
Use of Force
E.V.O.C. (Emergency Vehicle Operation Course)
Traffic Stops
OWI Traffic Stops
Firearms
D.R.E.(Drug Recognition Expert)
Evidence
Taser / O.C

Members of the Academy will also have an opportunity to tour local Correctional Facilities. Other agencies involved in helping with the program are the Mayville Fire Department and Mayville EMS.
---
"Participation in this class will allow you to ride along with an officer and have exposure and insight that most people never receive. I promise you will enjoy it."
Officer Ryan Borchardt
Applicants must be 18 years of age, and live or work in the City of Mayville. Each applicant will also undergo a background check. Also, the participants will have no arrest powers when the class is over, but are expected to have an impact in other ways.
We are continually accepting applications for the Citizens Police Academy. Applications may be obtained at the Mayville Police Department office from 8:00am to 4:00pm, or you may download the application Here.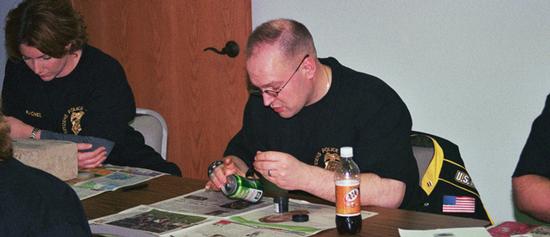 Learning first hand about police work


Real life scenarios


Providing hands on experience