Chief's Welcome
On behalf of the dedicated men and women of the Mayville Police Department, I would like to welcome you to our official website. Our professional team of officers and staff work diligently 24/7 to ensure Mayville remains one of the safest cities in the State of Wisconsin. We've built a website designed to share information with the public that we serve. If you have further questions or would like to discuss a particular matter you are welcome to contact me at (920) 387-7903 ext. 1301.
Chief James Ketchem
jketchem@mayvillecity.com
Winter Parking
WINTER PARKING ENFORCEMENT
No vehicle may park on any street any night between the hours of 1:00 a.m. and 6:00 a.m. when there is a snow event.
A "snow event" means either 1) the accumulation of snow is such that snowplows are used to clear the snow, or 2) a snow emergency is declared. All vehicles must be removed from public streets and alleys from the starting time of the snow event until the streets or alleys have been cleared curb-to-curb or edge-to-edge of pavement during a snow event.
If any vehicle is parked on the roadway, the police department will place a parking ticket on the vehicle and may order the vehicle towed from the street at the owner's expense. Each parking violation is $25.00 for the first 72 hours. After 72 hours, you will incur additional fees and penalties.
*** PLEASE NOTE THERE IS NO PARKING ON MAIN STREET BETWEEN HORICON STREET AND *** BUCHANAN STREET FROM 2:30AM until 5:30AM REGARDLESS OF SNOW LEVELS
Parking permits are available at City Hall for municipal parking lots.
The cost is $10 for one month, $20 for two months, and $30 for four months.
K-9 Program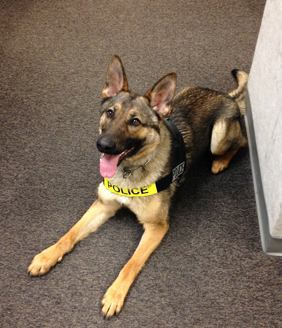 K9 Boja and her handler, Officer Kirsten Birch provide a unique and valuable service to the City of Mayville. Boja is trained in drug detection, tracking, and area searches. Officer Birch and Boja are frequently called upon to make presentations for schools and help educate our youth about the dangers of drugs.
The MPD K9 Program is funded entirely through donations and fundraisers. K9 Boja would not be possible without the generous help and support of the Mayville Community.
If you would like to know more about Boja or how you can help maintain the program, please contact the Mayville Police Department at 920-387-7903.
Quick Links
Prescription Drop Off
The prescription drug drop off box, located in the front lobby of the police department, is open to the public, Monday through Friday from 8:00am - 4:30pm.