Dog Ordinance
Pet owners have the responsibility to provide their pets with a healthy and safe life. Owners also have the responsibility to provide their neighbors with a pet free existence.
Keep Mayville Clean

You must clean up after your pet on any public or private property that is not your own.
Pets left in Vehicles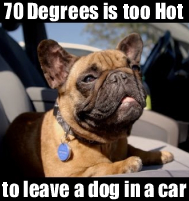 Even on a beautiful 70 degree day, the temperature in a vehicle can reach past 100 degrees in no time and cracking your window does not help your beloved animal. Heat can cause irreparable damage to a dogs brain and kidneys. Leave your pet at home in warm weather.
| | |
| --- | --- |
| Outside Car | Inside Car |
| 70 | 100 |
| 75 | 110 |
| 80 | 120 |
| 85 | 130 |
| 90 | 140 |
Dog Ordinance
Pet Owners Must:
Fasten your pet securely to a suitable leash not more than 6 feet in length.
Prevent your pet from trespassing on neighbors property.
Immediately remove your pet's waste when excreted on someone elses property.
Prevent the accumulation of animal waste on your property.
Properly dispose of your pet's waste by either flushing or bagging and depositing in the garbage.
Keep you pet quiet.
Immediately report all animal bites to the Mayville Police Department.
Always provide your pets with sufficient food and fresh water supply.
If your pet is kept outdoors, provide them with adequate shade and shelter.
Maintain pens and enclosures in a clean and sanitary condition.
Never abuse, abandon or neglect any animal.
Never leave any animal, enclosed or unattended in any type of vehicle where the air temperature inside and/or outside will cause the animal to be exposed to extreme weather conditions. On a warm day the temperature in a parked car can reach 160 degrees in a matter of minutes, even with partially opened windows. With only hot air to breathe, your pet can quickly suffer brain damage or die from heatstroke.

Pet License 
Every cat and dog, 5 months of age or older, shall obtain a license within 30 days and must wear a current City of Mayville animal license tag on the collar. No dog or cat license will be issued until a certificate of rabies vaccination has been presented to the clerk.
Penalties
| | |
| --- | --- |
| Mayville Ordinance Violation | Fine |
| No Rabies Tag (5 months or older) | $326.50 |
| No License (5 months or older) | $213.10 |
| Animal at Large | $213.10 |
| Barking Dogs | $213.10 |
| Cruelty to Animals | $326.50 |
| Pet Littering | $213.10 |
| Prohibited Animals | $263.50 |
View the Entire Ordinance Here