K9 Program
A K9 is an invaluable asset to law enforcement as it can sniff out suspects hiding or illegal drugs concealed from view as well as be used to assist officers in apprehending suspects. The Mayville Police Department K9 program has been popular with local schools and community groups for the last 16 years which started with K9 "Frankie" beginning in 2003 and continued on through K9 "Boja" beginning in 2015.
While The Mayville Police Department does not currently have an operational K9 program, rest assured that we are committed to working with the schools and the community to combat the use and transportation of illegal drugs. When needed, the Mayville Police Department is aided by K9 programs from surrounding agencies.
The K9 program would not be feasible without the support and generous donations from the community. The program is funded entirely from donations and annual fundraising with one of the most popular events being the Youth Dances held at the Mayville Pavilion.
If you would like to know how to help or donate, please contact us at (920) 387-7903.
Frankie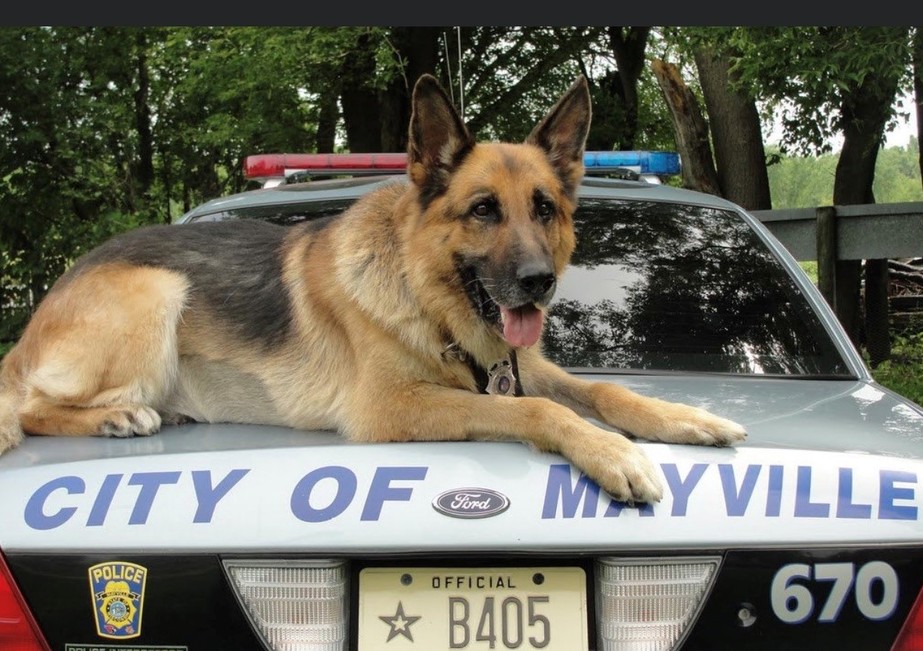 K9 Frankie, a German Shepherd and born in Germany began his work at the Mayville Police Department in September of 2003. Frankie was trained in drug detection, search and rescue and suspect apprehension. He showed off his bark and his bite when needed but otherwise he was a gentle soul who loved attention from members of the community, especially kids. Frankie was always ready to put on a demonstration for school or community groups. Sadly Frankie's days of fighting crime were cut short due to a terminal illness and he passed away in August of 2010 at the home of his partner and best friend Officer Ryan Vossekuil. Frankie was the first K9 for the Mavyille Police Department, paving the way for the next K9 willing to step up and take the reigns.
Boja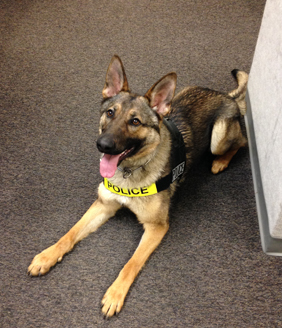 Enter K9 Boja. Another German Shepherd born in Germany. Boja is trained in drug detection and search and rescue. Boja began her career with the Mayville Police Department in April of 2015. She has aided the Mayville Police Department as well as other agencies is numerous drug arrests including several several search warrants on homes where various amounts of illegal drugs have been seized. Boja is a little more rambunctious than her predecessor Frankie. She LOVES to play. She may not be as big and bad as Frankie, but try and take her toy away and see who wins that tug-of-war! When she puts on her badge and vest, Boja is all business. She also loves to put on a show for kids and adults alike by showing off her searching skills to find hidden drugs. While she was another great asset to the Mayville Police Department, Boja hung up her leash and retired in 2020. Boja is currently living her best life at home with her partner, Officer Kirsten Birch.